Many people I speak to have used a lawn treatment company in the past, and have decided for one reason or another to treat the lawn themselves.  They reason it'll save them money and they can do just as good a job.
In some cases this is true, but in many others, it can lead to even more hassle and expense.
This chap I met yesterday had decided to weed his own lawn, and obviously bought the wrong weedkiller.  Total Weedkiller does exactly that – as you can see his lawn had died in straight lines.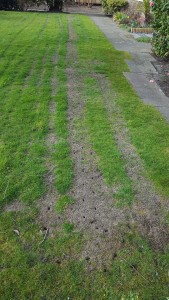 What was hoping to save him £20 or so will end up costing him much more… and the embarrassment of explaining to his friends and family why his lawn looks like it does.
At LawnOrder we know what we are doing – we have almost 15 years experience in lawn care and customer service and we will not only make your lawn look great, we will help and advise you on caring for, and maintaining it too.
If you have an existing lawn care provider, or you are looking for a new one, please give LawnOrder a call – you will soon realise that all lawn care companies are not the same.
Offering total lawn care, LawnOrder will weed, feed, mow and edge to give your lawn a superior finish, at less than the cost (in terms of time, money and hassle) of doing it yourself.  Covering North Wales, Chester and Wirral, now is the time to get some LawnOrder in your garden.